Making finance family friendly
Finance can be intimidating for parents; they want to be able to not only provide for their growing family day to day but to also plan for their future. I had the honour to contribute to the development of the experiences that brings human connection to financial security.
Team
EarlyBird
Skills
Design leadership + Team Processes
Highlighted Tools
Figma, Notion
At its core, EarlyBird is an investment app that facilitates parents opening long-term investment accounts on behalf of their children. The uniqueness of EarlyBird is its vision to marry two typically very different product experiences, finance and community.
Moments allow parents to take their memories and stories to not only look back on with their children but to share with friends and family. I lead the design of this feature and since launching in Aug 2022, there was a ~7x increase in weekly parent engagement.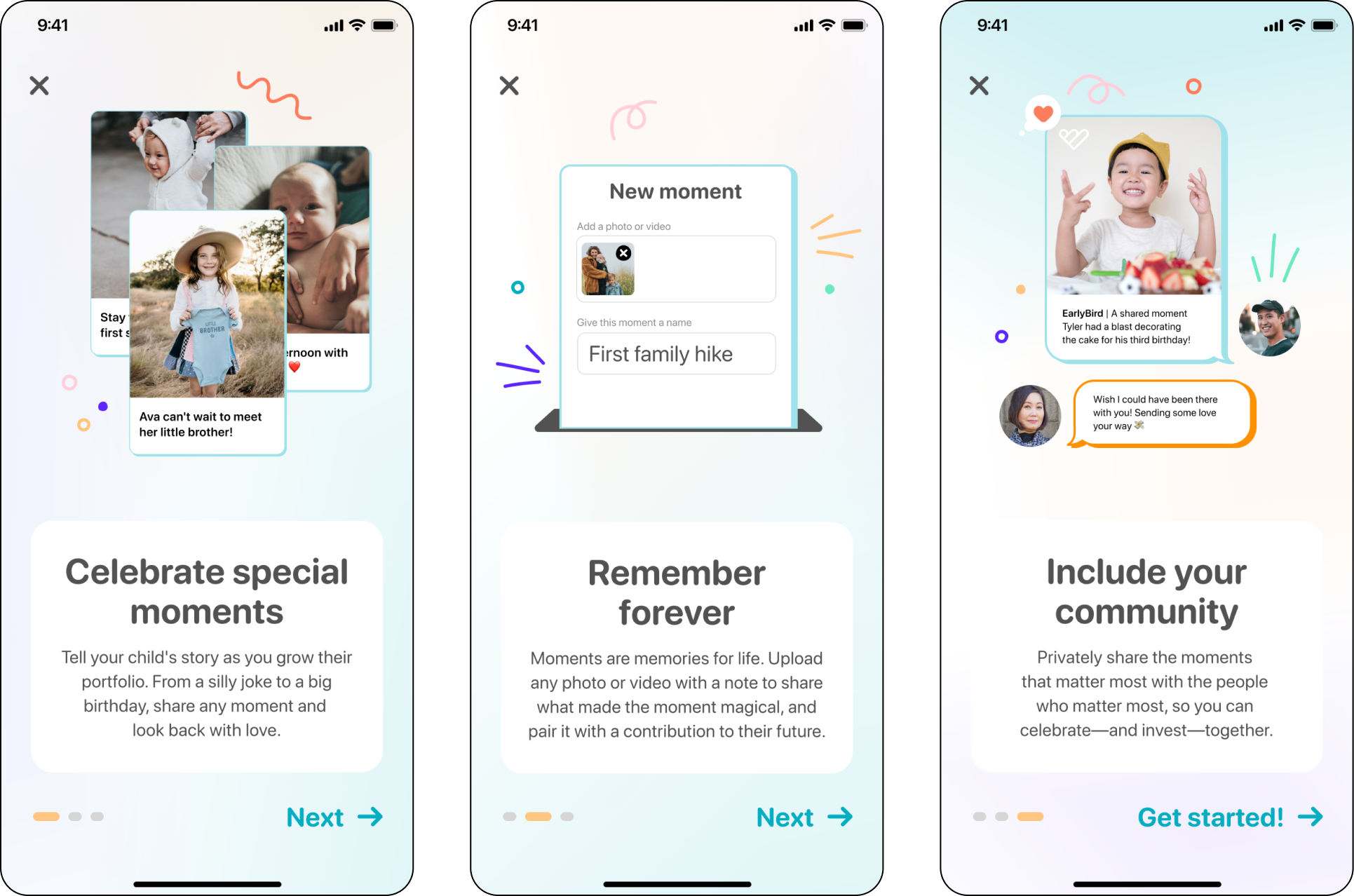 Synthesizing user feedback
User interviews were conducted and I collaborated on synthesizing and translating feedback into user needs and features. The results helped inform the prioritization of features and how we would plan the incremental design approach.
Elements of Moments
Moments was an evolution of an existing feature called memories. Memories had limited functionality; a user could view the dollar amount of an investment/gift and the attached photo, video, or note. Moments, on the other hand, have an exponential amount of elements compared to its predecessor.
I had the task of integrating a long list of new interactions into the existing UI framework: like, comment, share, interaction counts, and of course, invest. The challenge here is visually balancing each element so that a user is not overwhelmed but still can intuit the hierarchy of content and interactions.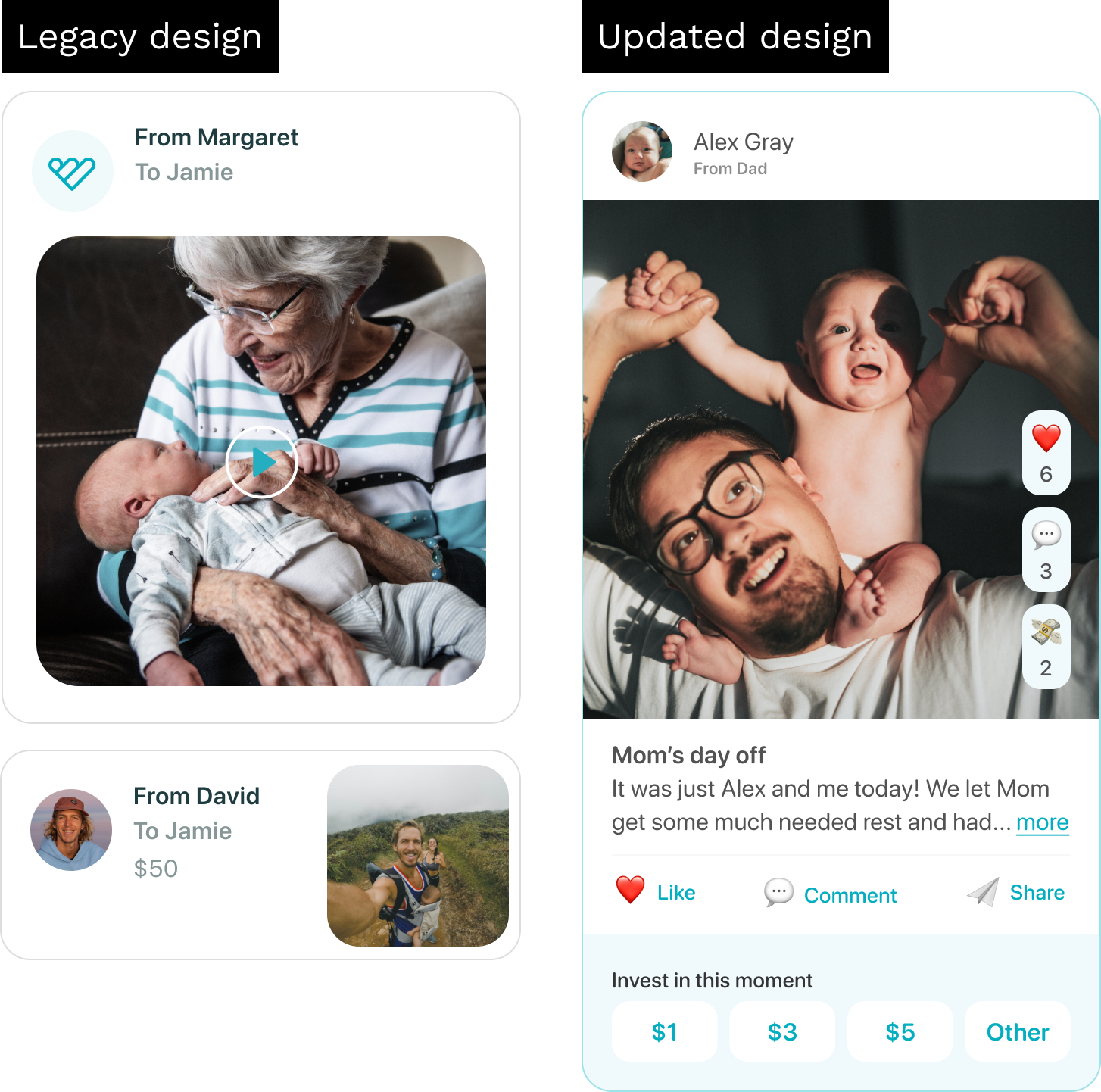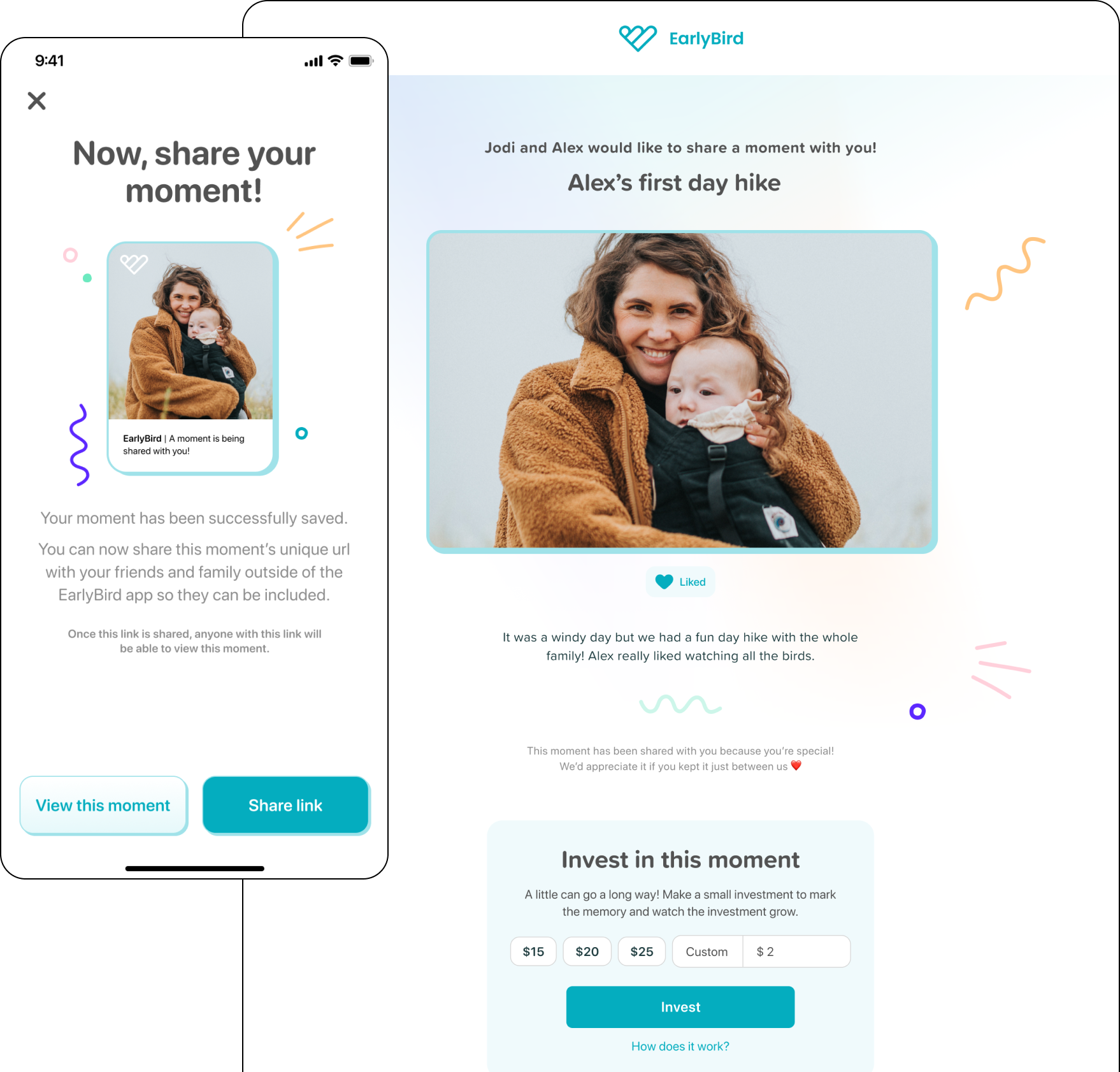 Sharing with friends and family
Parents that engage with moments invest 67% more AUM monthly and are 4x more actively sharing. With the increase of sharing with friends and family, we had the opportunity to create a more engaging experience for givers.
Historically, non-parents could only gift investments to children within the app. To increase giver engagement, we created a desktop experience to view and invest in moments. This allowed a lower barrier of entry for givers who weren't ready to download the app.
Build
The second stage is Build. This is a stage where a lot of the typical 'work' occurs, where initial designs are created, tested, and iterated upon. Although we may uncover many user and business needs from the Think stage, through usability testing we are able to further find out what those needs are, at what part of the experience they need it, and information to prioritize our release approach.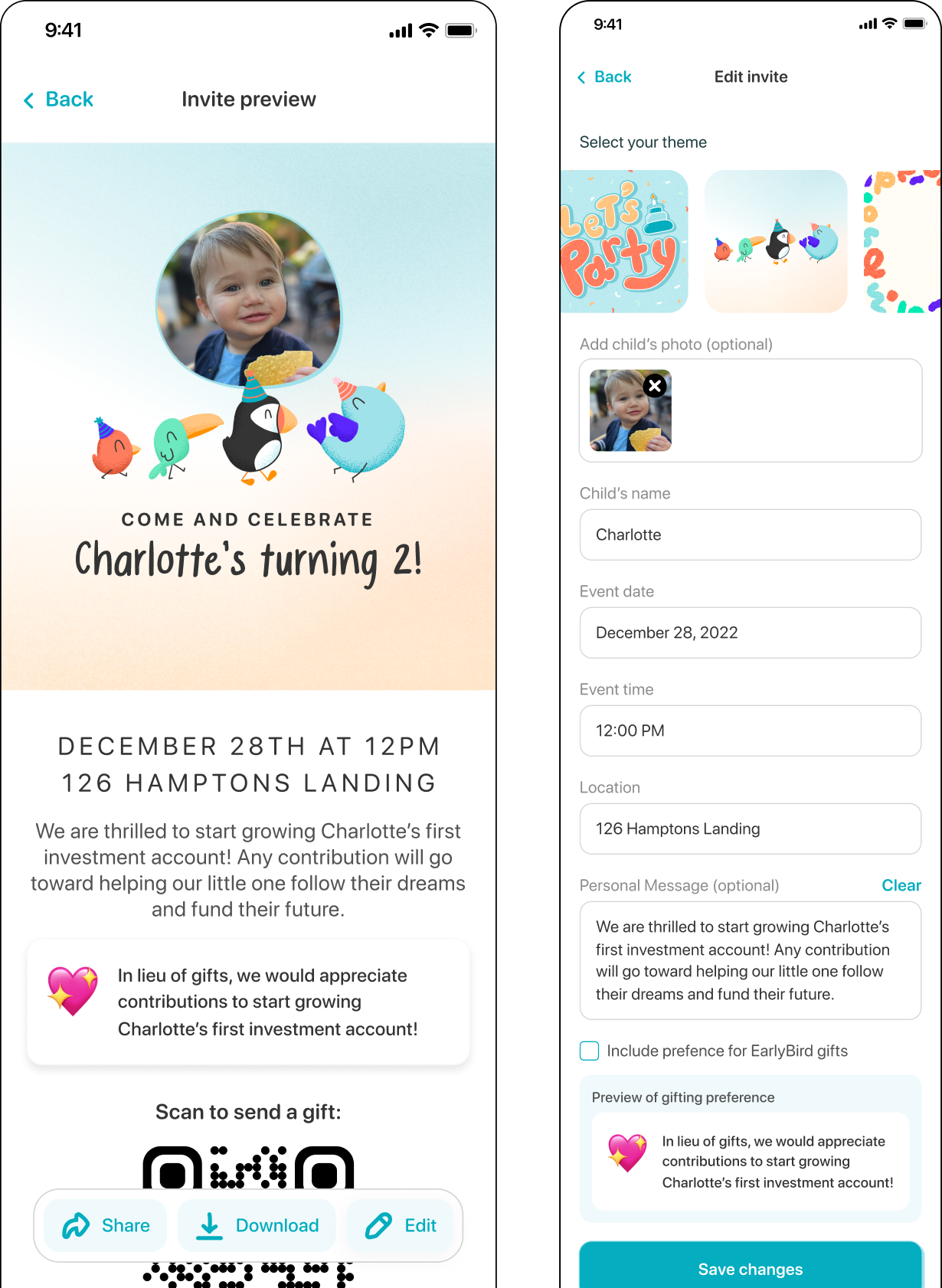 Contributing to the greater team
I am a collaborative team member who seeks to contribute to the team's success whenever possible. I always keep an eye out for opportunities to improve process efficiencies and organization with the aim to enhance the team's overall happiness and job satisfaction.
The Hatchery 🐣
Off the side of my desk, I cataloged existing recurring design elements and practices in order to start the framework of EarlyBird's new Design System and Figma component library: The Hatchery. While I worked on new features and optimizations, I was able to update files and designs to all pull from The Hatchery, not only making it easier and faster to design but easier for engineers to pull existing functional and QA'ed code. Creating a repository of patterns that can be reused created a more consistent and cohesive product.
Organization
When I join a team, I look for ways to set myself and my other team members up for success. One of the first things I do is evaluate how effectively their existing file structure is working for them and if there are any updates that could help the work move forward. Since EarlyBird is a young company, when I joined they didn't have any formalized file structure or documentation process, so I built and implemented a system.

I'm always seeking ways in which I can help my team and other teams find better ways to communicate and work together. When I joined EarlyBird, the team just started using Zoom so I created a document of various tips and tricks to help everyone get more familiar with the new tool.
I also discovered that EarlyBird had been operating without copy docs, making content proofing, editing, and finalization a complicated process that created opportunities for repeat efforts and confusion. Since I had worked with copy docs in the past, I created a database and documentation template for the team.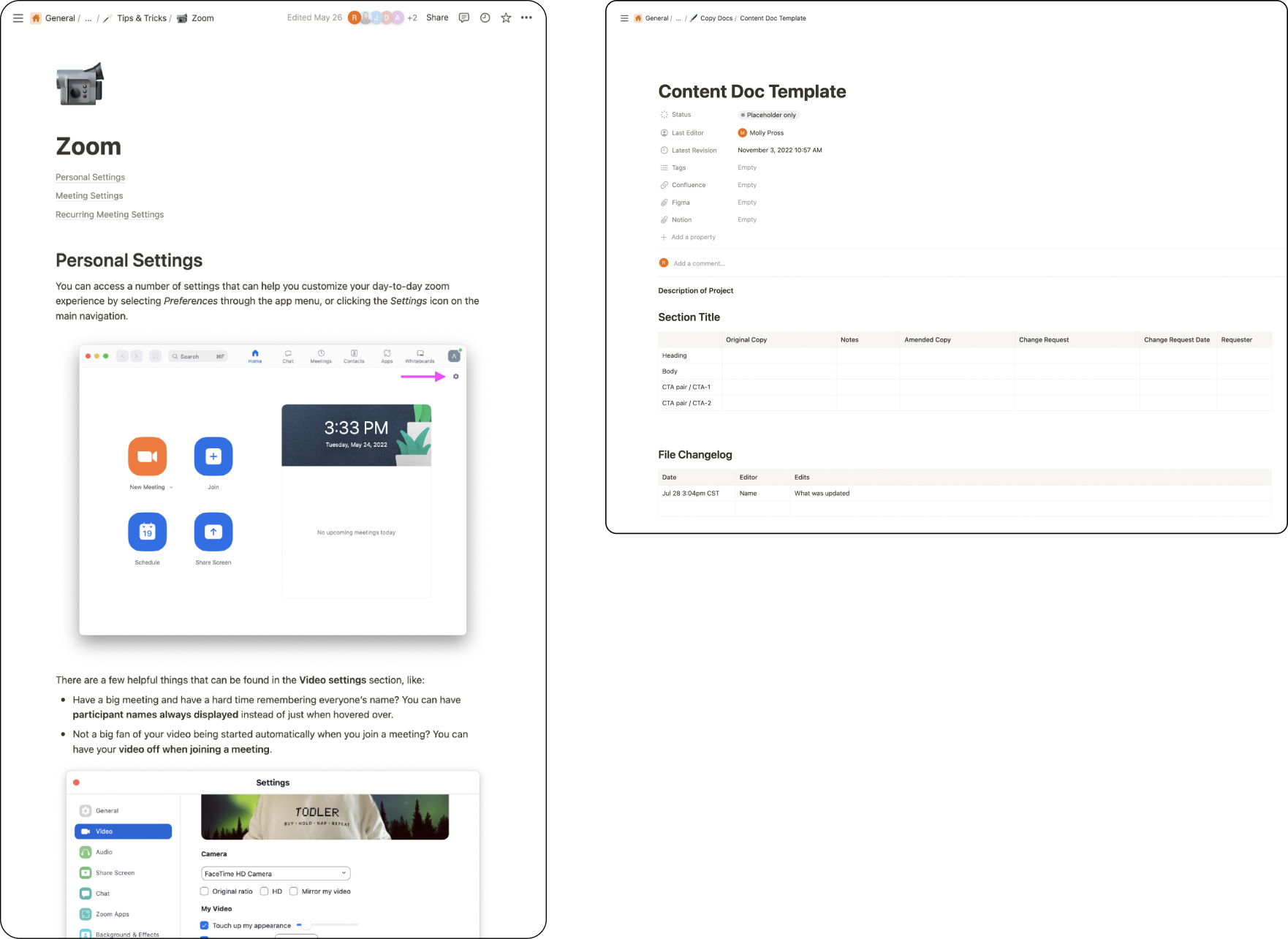 Helping an established team create a roadmap at a pivotal growth phase
A case study of my time on Benevity's design system team, Skyline